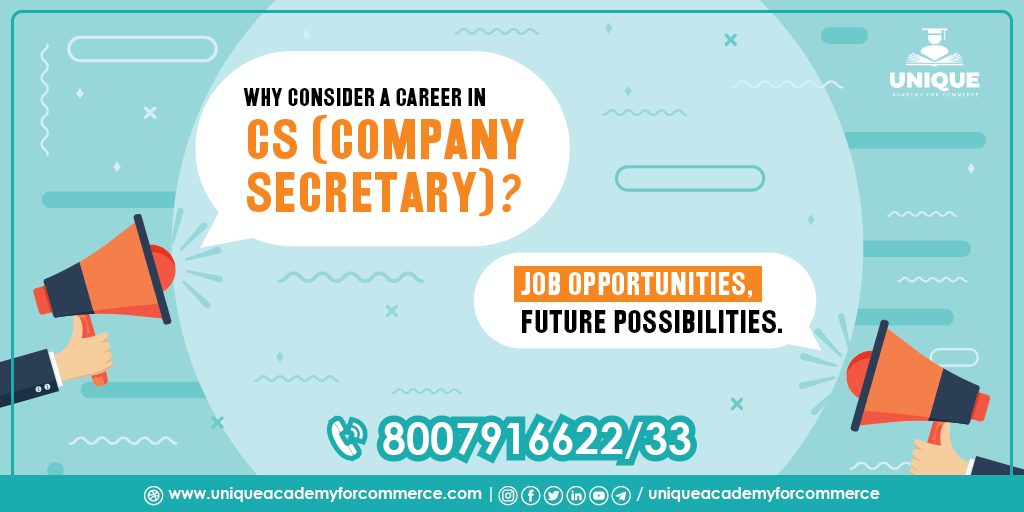 Career opportunities are vast and choosing just one of these million opportunities can be an overwhelming experience. Students contemplating upon entering the corporate world usually have many fears going on in the back of their minds. They have a lot of questions as well. After clearing 10+2 years of school education and junior college, you come across many career options to decide from. Professional courses like CS, CA and CMA holda prestigious position in the society and the corporate world. CS or Company Secretary Course is authorized under Indian Institute of Company Secretaries (ICSI) and provides numerous opportunities to the bright minds.
You might be thinking of pursuing CS, but do you actually know who a CS is, what his work dynamic is, what position he occupies, and, what the whole procedure for being a CS is? This blog will explain you why consider a career in Company Secretary.
WHO IS A COMPANY SECRETARY?
Modern and industrialized era has transformed the corporate world to the core. The diversedisturbances caused by dynamism of the corporate world have a direct impact on the business professionals, especially stakeholders. Lack of confidence in the business world is the major issue faced by everyone today. Most companies are carving to retain the confidence of stakeholders. Where all the levels of management are busy in handling the general work of a company, there is no one to tackle the disturbances that can be caused and to retain the confidence of all the stakeholders. In this scenario, the need of a Company Secretary in a Company comes to the force.
The company secretary is responsible for the efficient administration of a company, particularly with regard to ensuring compliance with statutory and regulatory requirements and for ensuring that decisions of the board of directors are implemented. A company secretary plays a vital role in the smooth functioning of a corporate entity. One can confidently believe that a career as company secretary is not only exciting but also rewarding.
Various roles played by a Company Secretary can be defined as:
Corporate Compliance officer
Moderator between board and stakeholders
Custodian of Corporate Governance
Implementing changing legal environment
Representative of the company
Key Managerial Personnel
COMPANY SECRETARY AS A CAREER OPTION
The demand for the career as a company secretary is on the upswing. The profession has a tremendous growth along with attractive remuneration.
A qualified company secretary is capable of finding a job in the public and private sectors, financial institutions and banks. Company secretaries are also required in company law boards, various government departments, Department of Company Affairs etc. Top organisations offer attractive pay packages to company secretaries.
They can also setup their own consultancy after obtaining the certificate of practice.
Since company secretaries have immense knowledge of a wide range ofsubjects, they can take up the position of a lecturer/ visiting faculty in different academic institutes.
HOW TO PURSUE CS?
Institute of Company Secretaries of India has a well-defined procedure for being a qualified and certified Company Secretary.
Students aspiring to make a career out of CS must clear 3 stages after their class 12. These three stages involved include – CS Foundation (CSEET), CS Executive and CS Professional. ICSI conducts the exam twice a year, in June and December. Candidates with any stream in class 12th who want to be a proficient professional can pursue CS.
ICSI has come up with Company Secretaries amendment regulations 2020 and introduced Company Secretary (CS) Executive Entrance Test (CSEET) for direct admission to Executive stage. This examination is mandatory for students of all categories who want to appear for CS executive examination. The institute has decided to conduct it for four months in a year which includes May, July, November and January. Students studying in 10+2 levels, graduates and post graduates are eligible for appearing for the examination. With proper guidance and support from best coaching for CS foundation, every student can crack this entrance exam.
After clearing CSEET, you may enrol yourself with ICSI for CS Executive. Executive is held as the most important stage of CS. Unique Academy For Commerce are the Best CS Classes in Pune and prepare the CS Aspirants for every challenge and for every stage in a unique way with the best faculty of India and through online test series.
Only those studentswho clear CS Executive, are eligible for the enrolment in CS Professional, which is the last stage of CS Course.
But your dream of being a CS is not fulfilled yet. Training is the most important aspect for students pursuing courses in Company Secretary. Students must undergo short-term training programmes after the CS Executive level or after the CS Professional exams of Company Secretary Course. Training programme of 21 months with additional 3 months programme is mandatory to be called as a qualified CS and to be a member of ICSI.
After completion of all above steps, you will be qualified as an Associate Company Secretary and that's when your career begins.
Company Secretary Course is often considered as a tough course but Unique Academy For Commerce being the Best CS Classes in Pune, has proved it wrong with its excellent result every year. Pune, the education hub for students from all over India includes the best coaching class of India for Company Secretary Course.
PAY SCALE OF A COMPANY SECRETARY
The most common question in every students mind is how much we will earn. What will be the rate of return in this course?
Company Secretary in diverse sectors earns a satisfactory salary. The salary of a Company Secretary differs with one's experience and the organisation he or sheis applying to. Talking about organisation, either it would be a Company or a Practising Company Secretary Firm. Again, the listing status of a Company also has quite an impact on your earning as the work in a listed company is relatively abundant and better than an unlisted company. If you're a fresher CS, the average expected salary would lie between 25k-40k. However it varies from company to company and perks depends on which company you are working in. With gaining experience, the bar increases.
To reach the upper cap, you need to have years of hands on work experience. If you have the will power to achieve something great in your life, to live a life different from others, to be an important part of corporate world, Company Secretary is an ideal career path for you. In this course, the rate of return will surely be much higher than the rate of investment done by you.
Conclusion
Summing up, the scope of CS or Company Secretary is substantially wide as the new challenges in business can only be shouldered by highly competent and qualified professionals. Unique AcademyFor Commerce provides best coaching for CS foundationand contributes an appreciable amount of effort in producing an array of qualified Company Secretaries. We are proud to be the best CS classes in Pune.