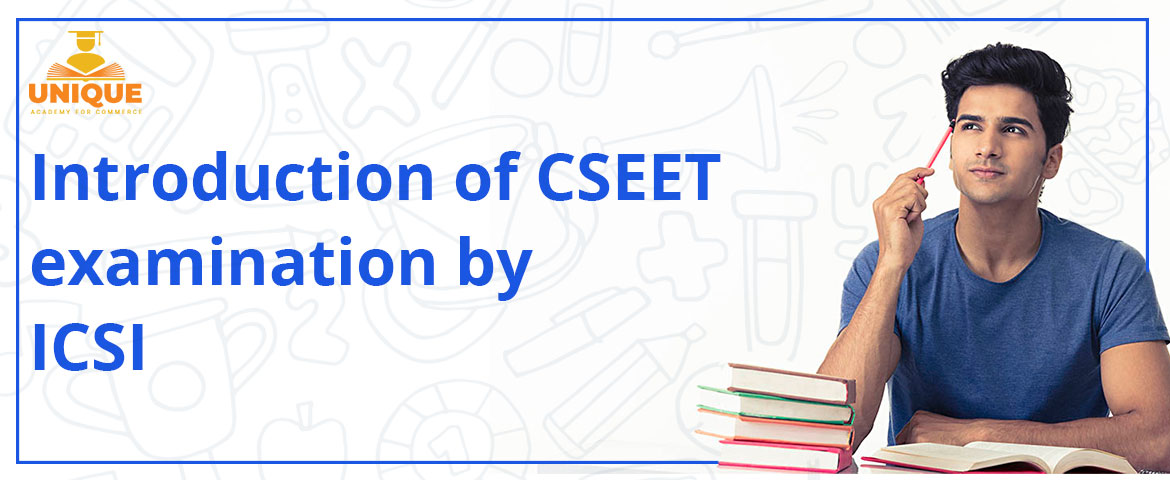 The Institute of Company Secretaries of India (ICSI) with a professional mind has come up with Company secretaries amendment regulations ,2020 and introduced a Company Secretaries executive entrance test (CSEET) for direct admission of students wanting to appear for CS executive replacing Cs foundation / entrance examination. This examination is mandatory for students of all categories who want to appear for CS executive examination . That means the foundation programme has been eliminated from the course. This examination will be held for the first time in May 2020 and the institute has decided to conduct it for four months in a year which includes May, July, November and January. Students studying in 1 0+2 levels, graduates and post graduates are eligible for appearing for the examination. The forms and registration details are available on icsi.edu.
The following subjects are included by the institute for CSEET examination:
1) Business Communication
2) Legal Aptitude and Logical Reasoning
3) Economic and Business Environment
4) Current Affairs
However, there are certain exemption categories where in the following candidates are not needed to register themselves for CSEET:
1) Students that have already passed the CS foundation programme.
2) ICAI (The Institute of Chartered Accountants of India) Final course passed students.
3) ICMAI (The Institute of Cost Accountants of India) Final course passed students.
The fee structure for registration is given below:
It is clear that the institute wants professionalism in every step that it takes and every corner of the professional course and the student's hardwork can be geared by a proper coaching for CSEET. Pune, is that one place where students who aspire to become a Company secretary are abundant ,but only few can make this dream come true. And so, the most appropriate option for the course is here at Unique academy ,a second home for a CS student. The teachers are well experienced and equipped by institute's changes.
Every year there are students who not only clear the examination , but also are called out in the list of All India Rankers (AIR). There are not only face to face lectures conducted at Unique, but they also provide facility of online lectures to students at uniqueacademyforcommerce.com. Students can personally see the lectures as per their convenience and each student's account is backed by passwords to make it even more safe.
The teachers are just a call away and always attend their students no matter what time of the day it is. Moreover the CEO of the academy, Mr. Ashish Pareikh always come up with innovative ideas and fun learning strategies that make the environment more fruitful . Thus , there's not much thinking for a proper coaching other than Unique academy if you are thinking to clear your CSEET examination and Cs examinations in a
go!
FAQ's
1) CSEET: Eligibility & Exemption
Students appearing / appeared 10+2 level , graduates and postgraduates are eligible for appearing for the examination.
The excempted categories include:
i) Cs foundation programme passed students
ii) ICAI (The Institute of Chartered Accountants of India) final course passed students
iii) ICMAI( The Institute of Cost Accountants of India) final course passed students
2) CSEET Dates & Registration Deadline
Until 15th April for examination to be held in May 2020 and thereafter between 21 st May 2020 to 15th June 2020 for further examination.
3) Revised Fee Structure for CS Foundation, CS Executive & CS Professional
Already stated above
4) CSEET Exam Pattern & Syllabus
The CSEET will be an online Computer-based Test. The test will comprise Multiple Choice Questions (MCQs), audio clips, video clips, and descriptive questions. The duration of CSEET will be1 35 minutes (1 20 Minutes for MCQ test and 1 5 minutes for Viva-Voce). There is no negative marking. The following subjects will be covered under CSEET.

Paper 1 : Business Communication
Paper 2: Legal Aptitude & Logical Reasoning
Paper 3: Economic and Business Environment
Paper 4: Current Affairs, Presentation and Communication Skills
5) Minimum Qualifying Marks?
Candidates need to secure an aggregate of 50% and 40% in each subject in CSEET.
6) What about CS Foundation now?
The foundation programme has been struck off from the course, but the students already registered for foundation before the amendments need to appear for foundation programme. The students who have cleared foundation programme do not need to register themselves for CSEET.